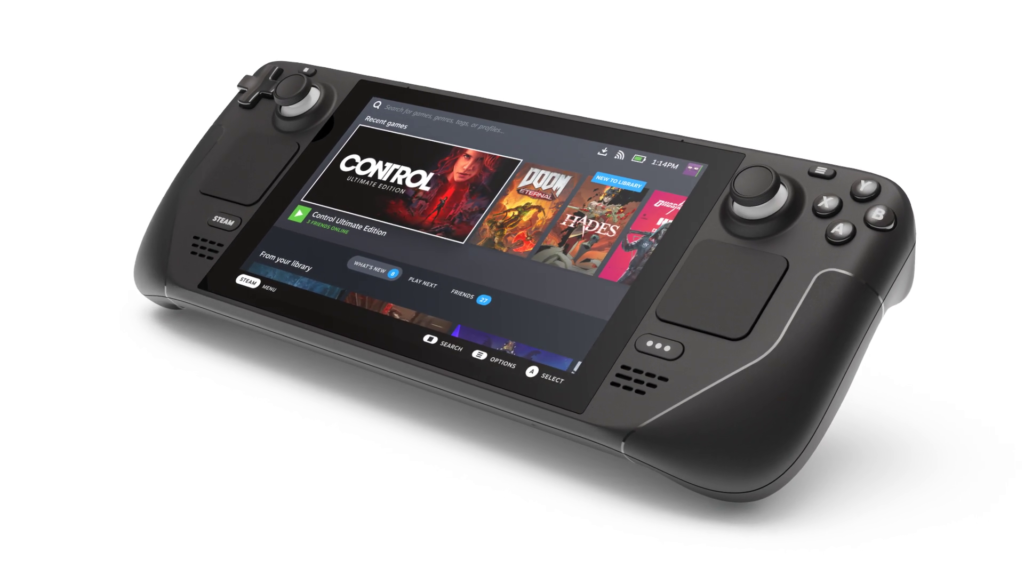 Valve Corporation (aka Valve Software), the makers of the popular Steam gaming platform announced the Steam Deck a portable gaming handheld on the 14th July 2021, reservations were opened on the 15th for a small fee, first batches are expected to ship in December 2021, although most people will probably receive theirs in early to mid 2022, reservations are currently only open to select countries and require a previously active Steam account, this is clearly in an effort to deter scalping which has plauged the GPU market.
Spectifications
The specifications of the Steam Deck have generated a lot of interest, it uses a 64 bit x86-64 CPU made by AMD using the Zen 2 architechture with 4 cores and 8 threads, this is only one generation behind the current Zen 3, this includes the RDNA 2 APU which has been proven to be very capable at running most modern games at or above 60 fps at 1080p.
Combined with 16GB of LPDDR5 RAM it's expected to out perform nearly all current gaming handhelds, as with many of Valve's previous products they are likely to be selling this at close to a loss, since the majority of their income comes from the Steam platform rather than the hardware itself.
It features a 7 inch LCD IPS display with touch, which is optically bonded to the front glass, some have questioned why it does not use an OLED display, but given how low they are pushing the price already I would say this is expected, given it's an IPS panel it will still look great, the display resolution is 1280×800 giving it a 16:10 aspect ratio, this may seem a bit low resolution, but it's a sensible tradeoff, RDNA 2 may be powerful but resolution is still a big framerate killer, an external monitor can be connected via USB-C DisplayPort if you really want a larger display.
Other features include a 6-axis IMU, bluetooth 5.0, dual band WIFI. stereo microphone and stereo speakers, connectivity includes a 3.5mm headphone/headset jack and a USB-C 3.2 Gen 2 port.
Battery Life
Valve have stated that it will last between two to eight hours from the internal 40Wh battery, this is more or less what I expected, ultimately how long you get depends on the games you play, very intensive games will naturally drain it faster than a simple game.
For charging and for continuous power it specifies a USB-C 45W PD3.0 power supply, which will likely be included with it, one thing that remains to be seen is if they offer replacement batteries, lithium batteries degrade over time so this could be an important consideration.
Steam Deck as a PC
Valve are advertising the Steam Deck as a portable PC, in many ways this is true as it is capable of doing anything a PC can do, to facillitate this Valve will be releasing an official dock for it which includes DisplayPort 1.4, HDMI 2.0, Ethernet, one USB 3.1 port and two USB 2.0 ports.
It can be connected to any monitor or TV up to 8k resolution, although if intended for gaming you should not exceed using it on a 1440p monitor as it may struggle to maintain a playable FPS, resolution scaling is an option for higher resolution monitors, although I tend to find this degrades image quality significantly.
It's hard to say for sure how well it will perform in this scenario, we will need to wait for benchmarks to be sure, but certainly if you don't have a PC or your PC is very slow this may be a viable solution.
Input
On the front, the Steam Deck has two analog joysticks with capacitive touch sensing, eight buttons, two trackpads (which Valve note are 55% more responsive than the Steam controller ones); on the top are two bumper buttons and two analog bumper buttons along with the power and volume buttons, on the rear there are four grip buttons, this gives a total of at least 20 assignments which can be adjusted with Steam input.
This should be sufficient for many games, but if you need more then using the USB port or Steam dock with additional controllers is an option.
Storage
The Steam Deck is available in three tiers, the bottom has 64GB of eMMC storage, the middle has a 256GB NVMe SSD and the top has a 512GB NVMe SSD, it has been revealed that it uses a standard M.2 2230 socket, so upgrading your memory should be possible, Valve seemed reluctant to advertise this as it opens the possibility of buying a low tier version and adding your own SSD, which is cheaper.
Because 64GB is such a small amount of storage I would not recommend it unless you plan on adding your own storage, it might do for some more basic games, but if you want to play large AAA games it will quickly become unworkable with some games exceeding 64GB as it is.
All versions also support additional storage via micro SD card, although this is typically quite slow making it the least desirable option, while we don't have full specs yet it's reasonable to assume that eMMC will achieve 300-400MB\s, NVMe 2000MB\s or greater, a good UHC-I SDXC card will give at best around 120MB\s.
Another final option is connecting external storage via the USB 3.2 Gen 2 port, although this kind of defeats the main point of the Steam Deck being portable.
Pricing

The lowest tier version currently costs £349, the mid tier £459 and the top tier £569, this is extremely good pricing for the hardware you're getting, the nearest competitor in performance would be the GPD Win Max which is around £584, but it's not really comparable .
The highest teir is not really that great value for money, so I would suggest going for the mid tier, if you're willing to install a SSD then the low tier is overall an excellent choice.
Software
The Steam Deck will be releasing with a new Steam OS 3.0, this time based on Arch Linux, along with the KDE Plasma desktop environment, this is not currently available but I'm hoping they will release this before the Steam Deck starts to ship.
Steam Deck does not place any restrictions on your software, you're free to essentially do whatever you like, including installing other operating systems, although given hardware support this mostly means Windows or other Linux distributions, although I'm sure people will have fun getting obscure OS's working on it.
This opens a lot of options besides your Steam library, certainly I expect emulators will become a popular choice allowing you access to many thousands of games, using alternative stores like Epic Games is also an option if you so desire.
The Steam Deck is fully capable of running most Windows only games using Proton, it's not perfect but it works in most cases, the only real problem at the moment is that Proton will not work with some anti-cheat software, Valve have already confirmed that BattleEye and EAC will have support ready by launch but other anti-cheat software remains uncertain.
Suitable for Casual Users?
This remains a big question, and generally I would say no, even with the increasing support for Windows games there will be people frustrated at it for not running certain games, or software, at the end of the day it's still running Linux and some Linux knowledge is preferable to get the most out of it.
Installing Windows is of course an option, but for casual users this may present too much of a problem, it would have been nice to see Valve offer a choice of operating system, maybe they will, it remains to be seen.
Overall Verdict
Overall while there are still many unanswered questions, what we have seen so far is quite promising, we will likely get more details as we get closer to launch, for now you should reserve it as soon as possible before stock runs out or you end up waiting a long time, reservation is only £4 and you can get it refunded if you change your mind.