I've been having a problem with PC audio noise for quite some time, the front audio jack in particular was very susceptible to interference, primarily from my GPU, I decided to get an audio DAC to fix the problem, specifically I wanted one with an optical S/PDIF input since this provides complete electrical isolation which can itself introduce audio noise.
After looking around for a while I decided to avoid the very cheap offerings, I'm not an audiophile but I still want half decent audio quality, the Fosi Q4 appeared to be of good construction with an aluminium chassis and included bass and treble adjustment which was a nice addition.
Construction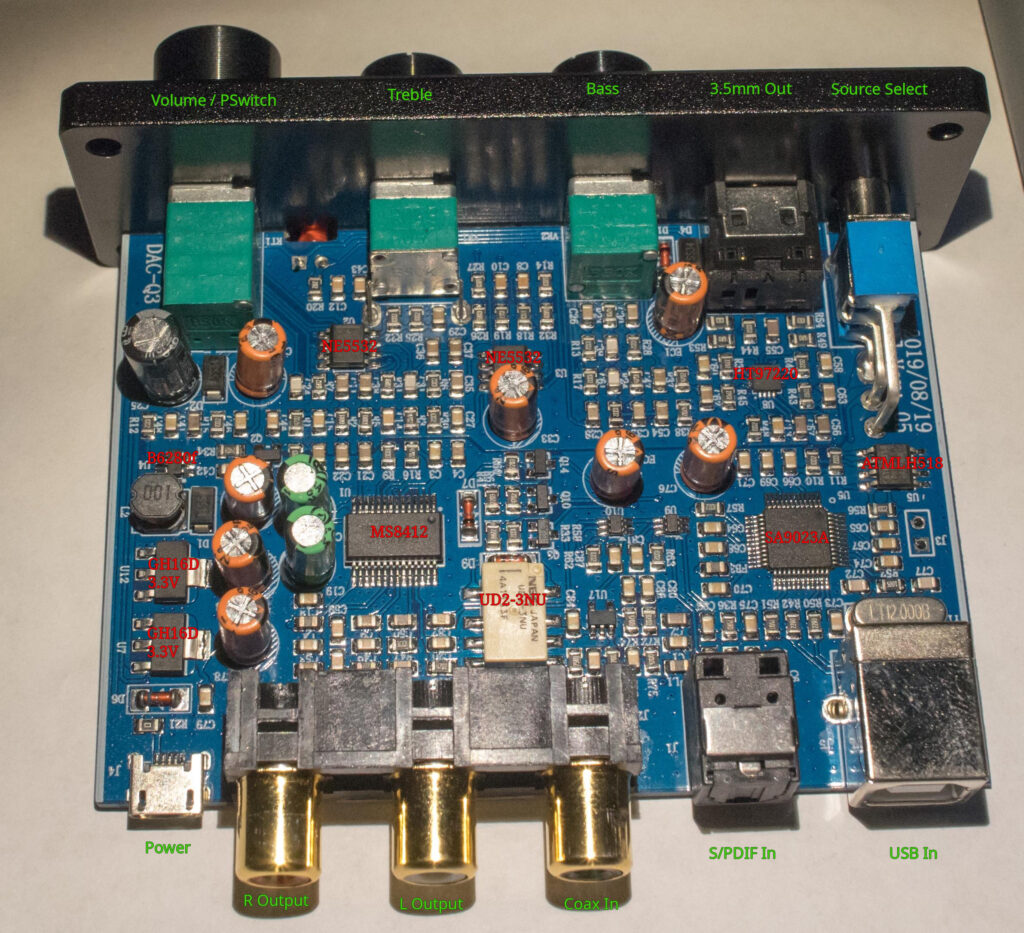 The Q4 appears to be a rebranded version of the Q3 Pro which was marked on the PCB, it uses the common SA9023A decoder which supports up to 24 bit 96kHz, it also uses the popular NE5532 audio op-amps, and a HT97220 125mW audio amplifier for the front headphone output.
I identified the DAC as a MS8412 which appears to be a RuiMeng 192kHz 24 bit DAC, the exact signal path isn't clear but it appears the USB may be restricted to 96kHz while the S/PDIF and coax input are 192kHz, this may explain the mix of 192kHz and 96kHz used in advertising.
Other notable components are the UD2-3NU signal relay, ATMLH518 (possibly AT24C64D) which appears to be an EEPROM possibly for the SA9023A, a pair of fixed 3.3V LDO regulators and a B6280f which I was unable to find any clear info on, all the capacitors are 105c Lelong and Capxon brand.
Verdict
Overall this is a very decent DAC and can be had for a quite reasonable price, certainly unless you're an audiophile you'll find nothing to complain about.